The Anchor: A Christian Symbol
The beautiful anchor on top of St. Andrews Catholic Church located on Block Island has a long history of Christian symbolism. It is a fitting symbol for a church that sits on a hill on an island several miles out to sea. Block Island has been and still is a safe haven for boats who find it necessary to anchor in its harbors to wait out storms or to simply lay still in tranquil waters.
Christian symbolic reference to an anchor is found in Paul's letter to Hebrews 6:16-20:
…(16) For men swear by one greater than themselves: and an oath for confirmation is the end of all their controversy…(17)Wherein God, interposed an oath:...(18)That by two immutable things, in which it is impossible for God to lie, we may have the strongest comfort, who have fled for refuge to hold fast the hope set before us…(19)Which we have as an anchor of the soul, sure and firm, and which entereth in even within the veil…(20)Where the forerunner Jesus is entered for us, made a high priest forever according to the order of Melchisedech.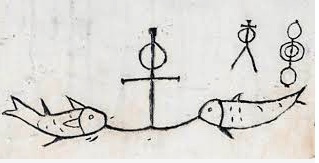 There were many symbols in early Christianity, e.g. doves, fish, cross, pelicans, Greek letters and of course anchors. Persecuted Christians in 1st century Rome often inscribed an anchor on their epitaphs. An examination of the catacombs revealed many such epitaphs which included variations of anchor depictions. These epitaphs displayed the hope or fresh start these early Christians had put in the promise of Jesus their Lord and Savior.
The anchor as a Christian symbol of hope and renewal was further championed upon the martyrdom of St. Clement of Rome. Pope Saint Clement considered the first Apostolic father of the church was consecrated by Saint Peter himself. In the Acts of the Martyrs it is noted that St. Clement was imprisoned under the Emperor Trajan and forced to work in a stone quarry. After he stuck his pickaxe into a spot on a hilltop that had been revealed to him in a vision, miraculously much needed water came gushing out to quench the thirst of his fellow prisoners. He created a ministry among fellow prisoners and some pagan guards. His punishment for this was execution by being tied to an anchor and thrown into the sea. Thus, the anchored cross is known as The Mariner's or St. Clement's cross.
The anchored cross symbolizes stability and strength in the love and hope that we place in Jesus. Jesus is the anchor of our soul and when we feel the stress of life's storms, we learn the strength and stability of dropping the hook or putting down the anchor in Jesus. Later day artisans have incorporated a ships wheel into the Mariners cross helping us to stay on course when we veer off. I pray that you find health, happiness and love while you keep this newborn baby Jesus anchored as The Mariner's Cross in your heart.
Merry Christmas and a Blessed New Year.