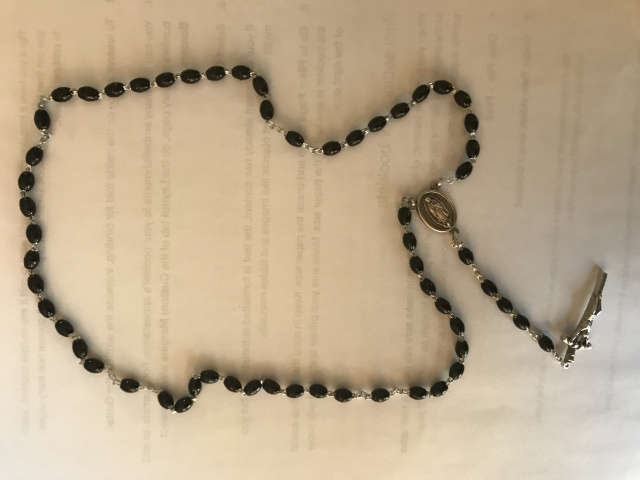 A true story…This happened to me yesterday 3.20.2020.
Bill M. called me around 11:47 yesterday to ask if I was going to Planned Parenthood with him? Bill goes everyday Monday through Friday from 2 to 3 PM. I have been going with Bill on Fridays for the past 3 weeks of Lent to stand at the entrances and pass out pro-life materials and pray the rosary. It is part of my Lenten journey this season. I asked if he was okay with me riding with him to Providence considering the Coronavirus distancing recommendation. He said he didn't mind, if I didn't. I told him I was not sick; he also said that he was not sick at all. I agreed to meet him at the Home Depot parking lot at about 1:15 and, yes, I would bring him his lunch.
At about 12:15 I received a call from my mom's nursing home telling me that I should come to visit her as she was not doing very well. I immediately became worried as I thought this must be very serious because the nursing home visitor ban has been in effect for about two weeks. I have not seen my mom per the ban.
I called Bill to tell him of the emergency call I received from the nursing home and that I would not meet him after all. He understood and said God Bless.
I had to ring a bell to be let into the home. Nurse Kelly let me in and greeted me with a squirt of disinfectant spray and a pouring of Purell hand sanitizer on my opened palms. She also took my temp and gave me a mask and gloves. I entered my mom's room and saw her sleeping; I didn't wake her.
My mom said two rosaries daily for many years. She told me that she would say one for me and one for Mickey and the kids. I always felt a little extra special.
While sitting there waiting, I decided to say a Rosary. During that time several nurses, CNA's and two activities personnel dropped in to see my mom and say hello to me. Mom slept through it all. I finished my Rosary and decided to turn on the TV. I flicked through various channels and came across EWTN which I never watch. Interestingly the show was about the Catholic Church's teaching on abortion. I thought it quite a coincidence that on a Friday afternoon I'm normally standing in front of a Planned Parenthood facility at about this same time saying a Rosary. I sat next to my sleeping mom and watched the whole show all the while wondering: was this a coincidence or a Godwink of sorts? After about 3 hours, I decided to leave. I thanked the nurses for taking care of mom and they assured me that they would keep me posted. I left her while she was still sleeping.
About 6 PM that evening I received another phone call from the nursing home and my anxiety shot up. However, this time nurse Raschel just wanted me to know that mom was at baseline! Mom was chatting and that they were going to get her some supper. I was delighted and thanked Rachel for the good news.
I began to think about what actually happened this day. Did our Blessed Mother intercede for me and whatever was making my 101-year-old mother ill suddenly make her okay? Was it a coincidence that I was at my mom's place when I'm usually at an abortion clinic praying the rosary for the unborn? Where these connected somehow? I still wonder.
I called today, Saturday, and asked how mom was doing. The nurse said she was fine. She was going to give her medicine, then take her to breakfast. I asked if it was okay to visit her today and the nurse said, "No, yesterday was an emergency". And, I thought 'an emergency that wasn't'. Thank God! Thank you, Blessed Mother! And I still wonder.